Holly Cole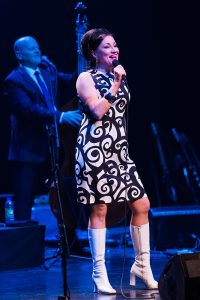 Winner of the 2013 Ella Fitzgerald Award!
Holly Cole is the 15th winner of the Ella Fitzgerald Award. The Montreal International Jazz Festival created the award for its 20th anniversary in 1999, annually conferring it upon a jazz singer of significant talent who has had a major impact and influence in the international scene. Previous winners of this prestigious award include Aretha Franklin, Tony Bennett and Sade.
About Holly Cole
There is an intelligence and sophistication to Holly Cole's singing that sets her apart. She can imbue well-worn standards and eclectic songs with an uncanny combination of sensuality, innocence, originality and sheer musicality. Cole has a long and storied international career, having sold hundreds of thousands of recordings in the U.S., Japan (1 Gold record award) and Germany. These echo her success at home, including multi-platinum sales awards, three Junos and two Gemini Awards.
Steal the Night: Live at the Glenn Gould Studio, Cole's first DVD with bonus live CD was released in February 2012 to glowing reviews and features an assortment of hits and gems from her early trio days through to the present. This immersive DVD/CD package was the perfect prelude to Ms. Cole's much-anticipated new studio recording (released Nov 19, 2012 by Universal Music Canada) entitled NIGHT, her first new studio recording since 2007's self titled gem.
The quintet (bass, drums, piano, horns and Holly) has been touring extensively, performing material from NIGHT as well as a broad selection of fan favourites from her more than twenty year recording career including hits like, 'I Can See Clearly Now', 'Calling You' and 'Make it Go Away', etc. For more information about NIGHT, click ABOUT
"The communication that goes on in the live show is multi-faceted and I love every aspect of it. There's the interplay between each one of us on stage and also from us to the audience.  And then there's the response that the crowd gives back — that is like rocket fuel for me." 
"She exudes as much fun as feeling in concert treating the people to a rare performance that was musically rewarding and refreshingly intimate. – Calgary Herald
"She consistently proves that delivering a lyric is as much a creative art as writing one." – Rolling Stone
"So successful was she at reaching and elevating an audience through sheer seductive vocal magic and commanding stage presence." – Austin American-Statesman
"Cole's voice: smoky, though not quite sultry; as sly as it is sexy; and brimming with adventure bordering on recklessness. And it bears an alluring touch of darkness, though it's not without a mitigating hint of optimism." – The Wall Street Journal
"Ms. Cole invented her own niche as a chanteuse." – The New York Times
http://youtu.be/-a_Iy3VoWJM