The Pacific Jazz Institute at Dimitriou's Jazz Alley welcomes Canadian chanteuse Holly Cole for 4 nights and six shows touring in support of her new release NIGHT! March 28-31. Show times at 7:30pm on Thursday and Sunday and 7:30pm and 9:30pm on Friday and Saturday. For tickets, please visit the Jazz Alley Website or Ticketmaster.
Feeling lucky? KPLU wants you to see the opening night performance on Thursday March 28th at 7:30pm! Visit the KPLU website to enter a "NIGHT Out With Holly Cole" contest package, which includes 2 pairs of tickets, dinner and a CD copy of NIGHT! Click HERE to enter the contest. Please note the contest is now over.
And be sure to tune in to KPLU (or listen live online) on Thursday, March 28 at 12:15 p.m. when Holly Cole and her band will perform live, hosted by Abe Beeson. Click here to listen to the last time Holly performed in-studio in 2008!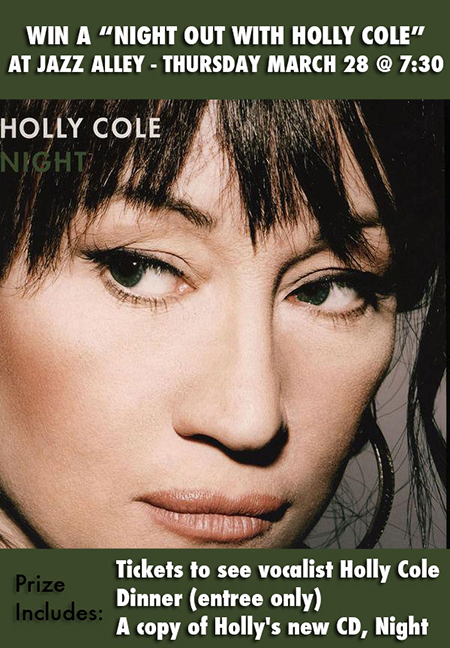 About Jazz Alley:
For almost three decades, Dimitrou's Jazz Alley has been a West Coast 'must' for all the towering figures in the world of jazz – stars such as Dizzy Gillespie, Oscar Peterson, Betty Carter, and Bill Evans have played there. See More….